Hilton Head Island - Sea Side Villas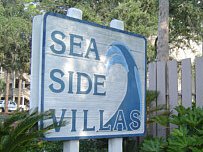 The Seaside Villa complex is located oceanfront, the beach is just out the door.

Located between Holiday Inn and the back entrance to Sea Pines, this complex is in the Hilton Head South Forest Beach area. This gated beachfront complex is one of Hilton Head Island's most convenient. From Pope Avenue to Coligny Circle the first right is South Forest Beach Drive. Seaside Villas are within walking distance to restaurants, grocery stores, miniature golf, a water slide, miles and miles of bike paths, family recreation, and shopping galore.

All of the condos are nonsmoking. Smoking on the balconies is permitted, with condo door and slider closed.


Pets are not allowed in this complex. There are heavy fines of $500 per day. Please check pet hotels on the island for lodging of pets. I will help also, please ask.

There will be days when you do not need your vehicle, and it will stay under the covered parking. This complex has elevators, and is comprised of one bed room ocean view and oceanfront units, which have some of Hilton Head Islands best beach views. For guest enjoyment the complex has two private swimming pools, a picnic and grill area, as well as an oceanfront sun deck. 

10 DAY WEATHER on  Hilton Head Island, SC click link on right side of page.

We accept paypal payments.  I will create an invoice and send it to your email, all you need is an email address.This way your information remains private and confidential. This is the credit processing company for eBay, they have a lot of protection for you as a buyer . I have run my business with them for 10 years with no problems. You may use any credit card for your payment. Through paypal there is a 3% charge.  

Coligny Beach Park .05 miles from condos. Great place for children to play ; also available in this public area are restrooms , changing rooms, swings and restaurants. Just one and half blocks from Seaside Villas.

Seaside Villas

23 South Forest Beach Drive  

Hilton Head Island , South Carolina  29928            

All of my condos come with a membership to the Fitness center.

Here is the link:


http://www.spinnakerresorts.com/resorts/hilton-head-island/the-fitness-center

These are great resources for information.

http://www.101thingshiltonhead.com 

http://www.hiltonheadmonthly.com/events/hilton-head-nightlife

http://www.forkandfun.com/ 

www.serggroup.com    This is the best restaurants on the island.